This post Can This Small Stock Save the Tech IPO? appeared first on Daily Reckoning.
Tech stocks have dominated the markets this year.
Aside from a few minor hiccups, the tech sector has remained in the driver's seat in 2017. Semiconductors and household name mega-caps like Apple and Facebook have trounced the major averages.
One would assume a booming tech sector would attract some new, innovative companies to the public markets. After all, investors clearly have an appetite for these stocks. Why not go public and cash in?
But the technology IPO is nowhere to be found.
We've seen only 19 tech companies list on U.S. exchanges so far this year, according to the Wall Street Journal. In case you're keeping track at home, the market hit 16 IPOs at this point last year, the Journal notes, marking the slowest pace for new tech listings since the financial crisis.
The last high-profile tech IPO to hit Wall Street happened more than six months ago.
Snap Inc. (NYSE:SNAP) debuted in March to a hoard of hungry buyers. Shares ramped 50% above their initial pricing on SNAP's first day on the market ? even as one analyst preemptively slapped the stock with a downgrade. A dismal price target of $10 per share didn't deter a single speculator. Snap was instantly worth three Twitters as its market value jumped almost $9 billion right out of the gate.
But the gains didn't last. SNAP stock has remained locked in a steady downtrend since its first week of trading.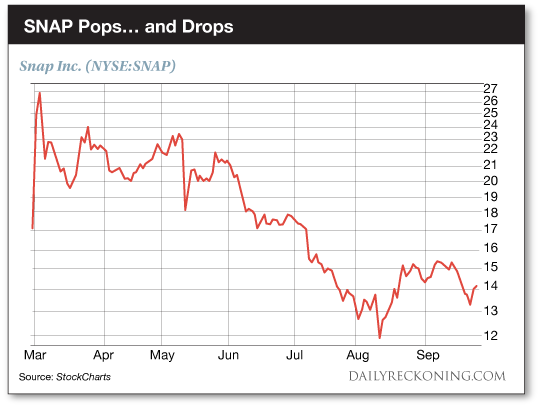 SNAP's slump might have scared some companies into delaying their filings. But we're finally starting to see some new names work their way onto the markets to try and grab a piece of this winner-take-all tech boom.
Next up is content streaming veteran Roku Inc.
Roku's IPO raised more than $200 million yesterday, coming at $14 per share. That's the high-end of the expected range, according to reports. Shares will debut this morning, giving us our first peek at how investors will react to another well-known tech offering after watching SNAP unravel.
So should you should throw all your money at the Roku IPO and pray to the market gods that it catches a bid?
Heck no.
Sure, Roku could surprise everyone and build a sustainable rally right out of the gate. But if you're going after new stocks, you need to stick to our IPO ?sweet spot? strategy. It's the only way to safely play for the big rips higher while avoiding catastrophic losses.
IPOs are one of the trickier trades on the market. It's tempting to take a huge hack at them right when they begin trading? especially when you're dealing with a hot name. Sometimes it pays off, and other times you might get burned.
For many IPOs, anyone looking to hold longer than a few days or weeks had to contend with the new stock overheating and giving up most of its initial gains. Unless you're willing and able to trade in and out of an IPO, buying one before it even gets a couple of moving averages under its belt probably isn't the move for you. Since our trading timeframe looks ahead more than just a few days, we want to wait for the stock to show us some direction before hopping onboard.
Facebook's 2012 IPO is a great example of how this strategy worked for patient traders. The stock looked like a dud when it went public back in 2012. Once it failed at its highs on its first trading day, everyone complained the offering was overhyped and overpriced.
It took more than a year for Facebook to find its footing. The stock's trading range compressed like a coiled spring and finally exploded higher in 2013. Once Facebook shares broke out, they never looked back. It went from Wall Street's punchline to one of the best-performing stocks on the market.
Of course, Roku doesn't have to have the same impact as Facebook to hand us outsized gains. No, we won't be in the stock from its very first day as a public company. But we can save ourselves a lot of pain and suffering while the stock finds its legs?
Sincerely,
Greg Guenthner
for The Daily Reckoning
The post Can This Small Stock Save the Tech IPO? appeared first on Daily Reckoning.