This post Voice Wars: The Next Big Tech Battleground appeared first on Daily Reckoning.
Your devices are listening to your every word. Your phone, computer, television, and speakers are all gathering data and awaiting orders?
Amazon just took this concept one step further.
Alexa ? the software behind its line of Echo devices ? can now recognize your voice.
Amazon just released a new feature that allows you to teach your Echo device to distinguish who's asking it questions (or who's ordering stuff on your Prime account).
?It's the latest development in the back-and-forth battle between Alexa and the Google Assistant, each one working to one-up the other with new features as they fight to earn a place in your home.? CNET News reports. ?In this case, Google got there first, introducing voice recognition for the Google Home smart speaker this past April. Now, six months later, Alexa evens the score.?
But Google and Amazon aren't the only major tech players diving deeper into the voice game. Microsoft is rolling out its own ?smart speaker? it developed with Harman Kardon that will use its Cortana language recognition software, Business Insider reports.
It's no secret that all the big tech companies are in the midst of historic bull runs. These mega-cap tech darlings took turns slaughtering the market during the first nine months of the year. Naturally, each of these tech heavy-hitters owns an important niche. Google owns search. Netflix owns streaming. Facebook dominates social media.
Then there's Amazon.
Most folks don't list Amazon as a tech company. That's fair. It's ?officially? a consumer stock?I get it. But this doesn't mean Bezos & Co. are mailing it in when it comes to groundbreaking technical innovations.
Amazon revealed at CES that there are now more than 7,000 Alexa skills, which Geek Wires explains as ?third-party integrations that extend the capabilities of its voice platform.? Alexa developers are in this game to dominate voice. And as Alexa continues to ?learn? new skills and integrate with additional products, she will be a force to reckon with in the tech world.
If the company continues developing its Alexa software and associated products, Amazon will indeed own the voice niche. The echo is more than a glorified wireless speaker that displays the weather. Amazon is developing a fully-integrated communications hub for your home.
But every mega-cap tech firm wants a piece of this important market. The investments Google, Microsoft, and Apple are making in voice proves the smart speaker market is about to explode. Business Insider reports it's expected to grow 75% in just three years to more than 7 billion devices.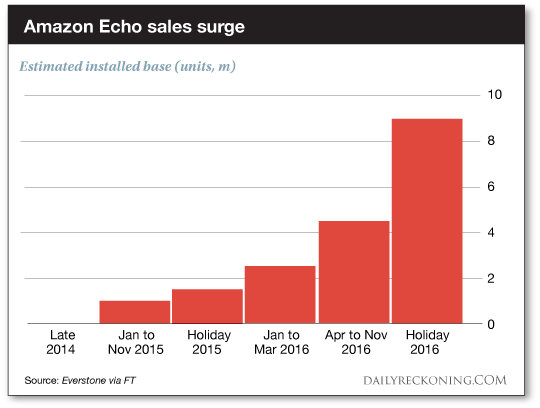 Right now, Amazon owns the software that's winning over customers. Amazon will control the market of more than 70% of all voice-enabled speaker users in the U.S. this year, according to Tech Crunch. The next closest competitor is the Google Home at less than 24%. The also-rans Lenovo, LG, Harmon Kardon, and Mattel only account for about 5% of the voice market.
Amazon has already shredded brick and mortar retail. While traditional retailers are attempting to lure you into their stores with coupons and sales, Amazon is sneaking into your home and your everyday life.
Echo is the Trojan Horse. Alexa?the software?is what Amazon will use to perfect its ability to gather every shred of information about you and your family to add to its consumer database.
But while Amazon is getting most of the attention, the other guys aren't giving up without a fight. The voice wars are going to get very interesting over the next few years as each of these competitors rolls out new projects and fine-tunes software.
If Amazon wants to stay on top, it must continue to hone Alexa and allow third parties to develop skills that will evolve the software into more than just a tool to push customers to easily place orders.
With the holiday season approaching, we're going to see what kind of demand the Echo and its competitors can drum up. We'll keep an eye on these developments and fine-tune our forecasts accordingly?
Sincerely,
Greg Guenthner
for The Daily Reckoning
The post Voice Wars: The Next Big Tech Battleground appeared first on Daily Reckoning.