This post Biotech Bites Back ? You Profit appeared first on Daily Reckoning.
We made a big bet on biotech exactly one year ago.
At the time, it was one of the most unloved sectors on the market. No, the biotech bull never showed its face in 2016.
But in early 2017, we witnessed the beginnings of a powerful rally and hopped onboard for a long-term trade. A fast start out of the gate in 2017 was just what the ailing sector needed to spark a massive bull run, we reasoned.
Fast forward 12 months and the SPDR S&P Biotech ETF (NYSE:XBI) is higher by almost 50%. But this rally ain't over yet. The beginning of 2018 trading is already flashing a new biotech breakout ? a move that could cement these stocks as some of the year's most explosive market leaders.
The major averages have posted impressive gains to begin 2018 trading. The tech-heavy Nasdaq Composite has already posted year-to-date gains of more than 2.3%.
But that's nothing compared to XBI. The small-cap biotech ETF has stormed higher this week with a two-day gain of more than 4%.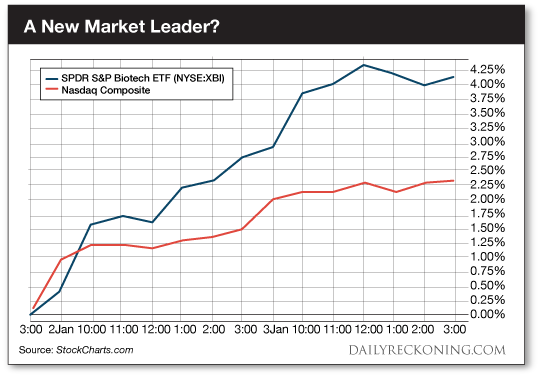 Of course, biotech's big comeback move from its 2016 lows has been far from perfect.
After nine months of impressive gains in 2017, it looked as if big biotech stocks were primed and ready to rip higher at the beginning of the fourth quarter.
Smaller biotech stocks were already popping left and right. Throughout late September, small-cap and microcap biotech stocks stole the show. The market was spitting out huge winners almost every single day. As these smaller stocks overextended their gains, we turned to their bigger cousins to keep the biotech bull alive.
That's when the market threw a wrench in our gears.
October was not kind to the biggest names in biotech. While smaller, more speculative biotech names consolidated, the big kids fell off a cliff. The biotech slide accelerated midway through the month, with both the large-cap iShares Nasdaq Biotechnology ETF (NASDAQ:IBB) and the smaller SPDR S&P Biotech ETF slipping more than 5%.
The pain didn't end there. Instead of joining the major averages and making a push to new all-time highs to finish out the year, biotech stocks stumbled. By the time the SPDR S&P Biotech ETF bottomed out in early December, it was more than 7% below its October highs. IBB's drop was even more dramatic. The large-cap biotech ETF endured a six-week swoon that ended in mid-November with losses of nearly 9%.
We were hoping for a meaningful bounce from our favorite fast-moving biotech stocks. But all the market gave us was a choppy mess.
We noted during the fourth quarter skid that biotech stocks probably just needed some time to reset. We weren't totally bailing on the sector. In fact, the large-cap iShares Nasdaq Biotechnology ETF even managed to hold above its 200-day moving average, leaving the door wide open for a return to form if any buyers showed up.
Now that the calendar has flipped and the major averages are roaring to new highs, the hot money is flowing into biotech stocks once again.
If you missed the 2017 biotech rally ? or if you were scared away from these stocks during their fourth-quarter pullback ? the market is giving you a gift right now. Another major biotech breakout is brewing. Now's your chance to ride the wave?
Sincerely,
Greg Guenthner
for The Daily Reckoning
The post Biotech Bites Back ? You Profit appeared first on Daily Reckoning.